Dear Patients,
I am delighted to have been appointed GP Clinical Lead at The Rowans Surgery and am looking forward to meeting and supporting all of our patients with their health and care needs for the foreseeable future. The Rowans Surgery has a rich history and has played a crucial part in supporting the welfare of the local community for many years. In recent times it has been difficult to provide the level of care expected due to multiple changes in management but we are grateful that a network of local practices including Cricket Green Medical Practice, Figges Marsh Surgery, Tamworth House Medical Centre and Wide Way Medical Centre have acquired the contract for services. These practices, along with The Rowans Surgery, make up the East Merton Primary Care Network and as a result of collaborative working across these sites we are now in a much better position with significant local experience to provide both continuity and excellence in care moving forwards.
I trained at Cambridge University and Guys, Kings and St Thomas' medical schools before working as a junior doctor in hospitals throughout South London, learning to be a hospital doctor and spending a year in intensive care before taking up GP training in Lewisham where I qualified in 2016. I moved to Merton and have worked in multiple practices across the borough, including as an out of hours hub GP, and have interests in public health, patient education and the prevention and management of chronic disease, particularly diabetes in which I work as part of the borough's quality improvement team.
These are particularly difficult times for many people as the coronavirus and measures the government has been forced to put in place to contain it continues to affect our health in many ways. We are here to support you all through these difficult times. You will have noticed a dramatic shift in the way we have been providing care through this crisis, in particular with the introduction of clinician based telephone consultations for all health related enquiries and face to face consultations taking place only when absolutely necessary, either at the borough 'hot clinic' for patients with possible coronavirus, or at the practice with patients being asked to wear masks and clinicians dressed in protective equipment to reduce the risk of coronavirus being passed on.
It is important to remember that if you have symptoms of coronavirus, including feeling hot or a temperature over or equal to 37.8 degrees, a new cough or shortness of breath the first place to look for help is NHS 111 online:
If you are unable to get the help you need via NHS 111 online you may call NHS 111 by dialing 111 on your phone and following the instructions. This is the best way to get the right help you need for your coronavirus symptoms and you should not visit a pharmacy, the GP surgery or hospital.
Looking forward to the future when coronavirus is just a memory we are going to be looking at how we can improve access to health advice and provide continuity of care within the context of the broader care team. We will be exploring new ways of patient communication to help achieve these goals, utilizing digital technology to help us do this where relevant but ensuring those not able to access this technology do not get left behind. We value all our patients equally whatever your circumstances and are committed to providing everybody with the highest possible standard of NHS care.
There will be a focus on patient education and support to prevent illness wherever possible and to enable ownership and self-management where able and where this will benefit you. We are very much committed to working with you as a team to ensure the best possible health outcomes for your health, your family and the local community.
I will continue to post updates on our website and encourage feedback from patients concerning any aspect of the practice as it is essential we work together to ensure we continue to focus on meeting your health needs. In due course this will become a primary focus of our Patient Participation Group.
Whilst we are gripped by the coronavirus pandemic please follow all government advice including staying at home for all but essential travel as this really is saving lives, and if you have received a letter asking you to self-isolate for 12 weeks please do not leave your house. If you need support with essential supplies such as food or medicine, we can put you in touch with verified social and charitable support that can help.
With best wishes from the whole team at The Rowans Surgery,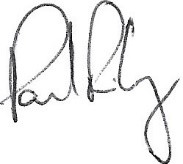 Dr Paul Riley
GP Clinical Lead
The Rowans Surgery
May 2020